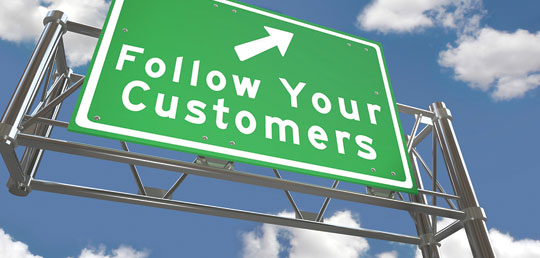 Now that you're done exhibiting at your show, what next? Don't let the leads slip by as you only have a few days before they go cold. Here's a quick list of action items to get your team to take proactive and effective steps to furthering your show investment:
Trade Show Following Action Items
Categorize your leads/contacts made into 4 categories on an excel spreadsheet as follows:

Information Gatherers
Sellers
Social Butterflies, Wallflowers and Friends
Solution Seekers/Buyers

Each lead should then be labeled in one of the above categories
Take action according to Lead Type

Information Gatherers:They ask a lot of informed questions. They were prospects looking for reassurance because they've bought something similar; they could even be competitors.

Action: Review your notes and make a decision.  Don't let them waste your time anymore. Identify them; move on.

Sellers: They wanted to sell you their products or services and asked you questions that appeared legitimate.

Action: If they were decision makers, network with them; follow-up when you aren't as busy. If they weren't, follow-up as a courtesy, but focus on the next lead first.

Social Butterflies/Wallflowers/Friends: They were people who were either uncomfortable, bored or looking for a distraction

Action: You saw them; that was enough.  It's time for sales following the show and you should move on as quickly as possible.

Solution Seekers/Buyers: This is your target group.  They had a specific problem with their business and they were looking for solutions.

Action: Review the Lead TODAY, write down 4 things on the lead print out about the interaction:

What were they interested in?
Did they tip you to a good time to call?
Was there a gatekeeper?
Rating as a prospect:  Cold, Warm or Hot

Action: Organize leads into buyers/solution seekers and everyone else.  Call the buyers immediately and the other categories afterward. A trade show lead has a shelf life of a few days…not weeks or months.  After that it's a cold call, don't procrastinate.
Action: Call, don't write, unless you are unsuccessful in reaching the contact, then send a thank you or written message.

Making the Approach Call: YOUR GOAL NOW is to set up an appointment with the contacts made at the show.  Use the following steps on a follow-up call.

Opening – Build rapport and reference the show
Permission – Ask to discuss your product/service
Value Proposition – 30 Second Commercial
Want/Need – Ask Questions to see if there is an apparent want or need for your product/service.
Next Step – Make a suggestion to set an appointment
Post-Sell – Question to ensure their commitment

Setting an Appointment: Since the sales process is already started with trade show prospects, begin the first sales meeting by summarizing and setting expectations.

Gratitude … Thank them for taking an interest in your product/service
No Interruptions … Make sure the time will be respected
Time … Set expectations for the length of the meeting
Agenda … Suggest a logical course of action
Permission to Ask Questions … Create awareness that you will ask specific questions
Permission to Say No … Define a "no" and get them comfortable saying "no"
Permission to Say Yes … Define a "yes" and get them comfortable saying "yes"
Define Next Steps … If there is a course of action following a "yes", tell them
Review What Has Taken Place . . . Summarize what you've already discussed to ensure you're on the same page and use it as a starting point for the conversation

Evaluate Your Show Performance

Review your results relative to your objective.  Are you meeting your defined goals?
Track the business derived from the show.
Lessons learned in order to be more effective at the next show.
The original contents are found at www.pmmi.org.