Designing Lasting Love.

Brandmetta helps you extrapolate what is most meaningful to your audience and build a brand story that is profound, engaging and unique to their experience. Through Brandmetta's engagement process, your audience turns to loyal customers and then evolves to passionate brand evangelists. This is where you harness a tribe of enthusiasts who willingly share their profound experiences with others they know and love. ♥
Did You Know: It costs 12X more to acquire a new customer than it is to retain an existing customer? Brandmetta's Engagement Process is a proprietary methodology that helps you harness your existing customer base to grow your business and to build new business.
Brandmetta Engagement Process.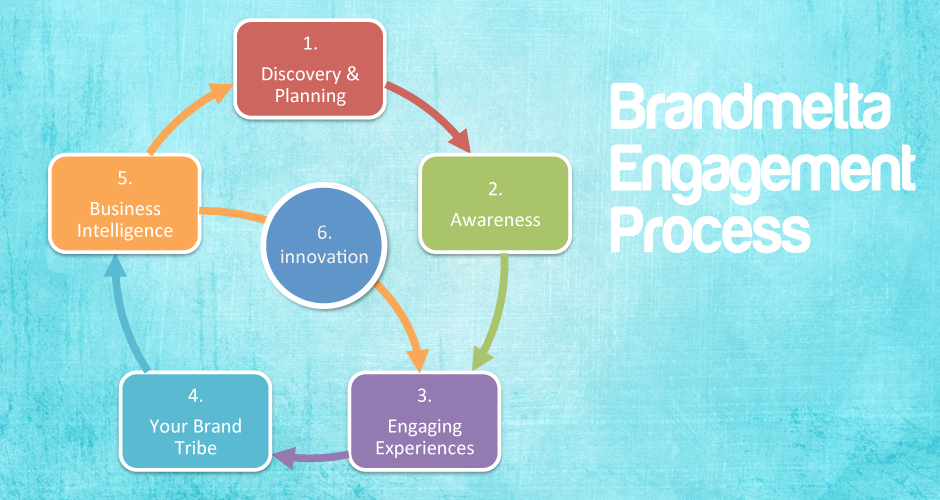 Discovery and Planning.
Before understanding your audience, we work to understand you, your vision and goals, and your competitive landscape. Then seek out your audience and learn their values and culture to build a plan that speaks to their needs in their language. We apply anthropological principles of human behaviors and needs and profile your audience's lifecycle alignments with your brand.


Awareness.
We believe in love at first sight. And we believe consistent and compelling encounters will keep your brand at top-of-mind. Hence, when we design touch points with your audience- rest assured it is compelling, dramatic, and empathetic to them. This is where we sweep your audience off their feet and give them a compelling reason to become your customer.


Engaging Experiences.
Through every major intersecting point, we create engagement experiences that keep the dialogue going between your brand and your customer. The integrated approach and cross platform disciplines becomes an everyday connection with your customers.


Your Brand Tribe.
We harness the relationship to build a tribe culture for your brand enthusiasts. Enthusiasts not only repeatedly engage and conduct commerce with your brand, they also become passionate evangelists to their other tribes. These beloved brand evangelists not only share your message to the world, they also defend your brand when crisis occur.


Business Intelligence.
The data collected from key analytics and tests will provide us with true business intelligence on your program's effectiveness. This insight garnered enables changes to maximize your marketing program. In addition, it provides the unique and proprietary ability for your business to continuously develop new products and services to take your brand's love story to the next level. ♥


Contact Us