Today, Hello Kitty turned 38 years old so we thought we highlight some of the reasons why Hello Kitty has become such an iconic brand - over the years. Introduced on November 1, 1974 by Sanrio and originally called Haro Kiti (AKA Kitty White), Hello Kitty was mostly on plastic purses and pencil boxes for young girls. Now Hello Kitty is licensed to airlines, phone companies, and appliance manufacturers. Hello Kitty was no longer for young Asian girls, she has grown to also command a cult-like following from fans of all ages around the world.
What makes Hello Kitty so unique compared to other cartoon characters?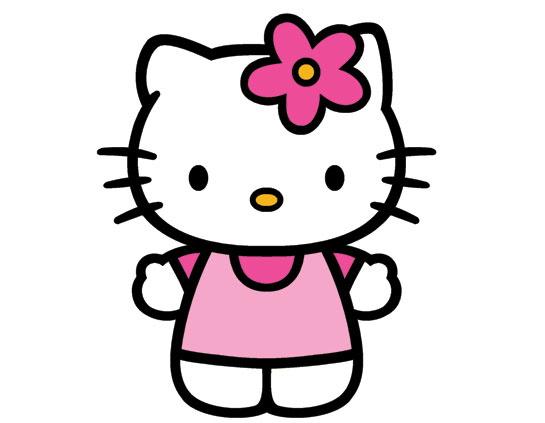 Well for starters, Hello Kitty does not have a mouth. Her expression is up to your individual translation and typically it would be what you're feeling at the moment. If you're excited, Hello Kitty is excited. If you're gloomy, Hello Kitty is gloomy. Hello Kitty doesn't have a mouth because she speaks from the heart, as many brand enthusiasts state. The power of mirroring is an extremely powerful way to attract and develop brand loyalists.
Hello Kitty's differentiator in the world of cartoons and characters is she is not alive with stories, personalities, and gimmicks before she reaches the audience. By being a canvas to which people can decorate with their own embellishments and personalities, they give Hello Kitty a unique personality, hence internalizing the character into their lives. This means, Hello Kitty's story can transcend and morph into any story during any generation. Who wouldn't want a brand empathetic to their needs?
Today, Hello Kitty makes up more than half of Sanrio's revenue stream, with over $500M in licensing to other brands and manufacturers. Some say Hello Kitty is becoming saturated but we think the company's next move into the premium luxury space will bring Hello Kitty another set of brand loyalists.
So when you get out there to develop your brand and your brand's persona, think about the story of Hello Kitty and how a simple cartoon without a mouth builds a legacy of over billions of dollars in merchandising and licensing.