At this time of year, many people will reflect and make their New Year's Resolutions to improve their personal and professional well being. New Year's Resolutions are great indicators for how to shape your messaging to fit the needs of your target customers. For example, a health club will know they need to increase marketing activity three fold for the #1 resolution of the year and a credit repair agency can produce messaging for getting one's finances in order. Whatever your business is, find the messaging that correlates to the benefits your products and/or services provide.
The following are stats- and you know WE LOVE DATA- for you to review and reflect on how to shape your marketing, branding, advertising, promotions, and creative towards people who will be most receptive when your offerings align with their resolutions.
Top 10 New Years Resolutions:
Lose Weight
Getting Organized
Financial Wellness
Live Life to Fullest
Improve Health
Learn Something New
Quit Smoking
Help Others
Find Love
More Quality Time with Loved Ones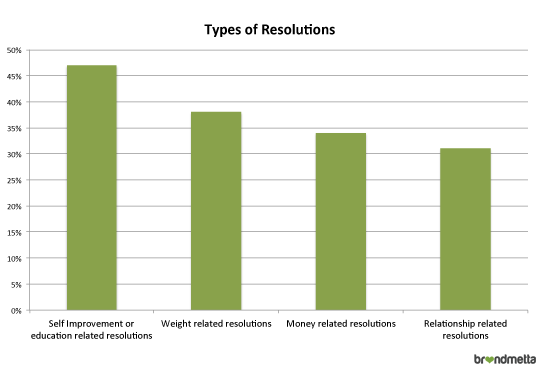 It's interesting to see a majority of the resolutions have the SELF IMPROVEMENT and BETTERMENT OF LIFE themes.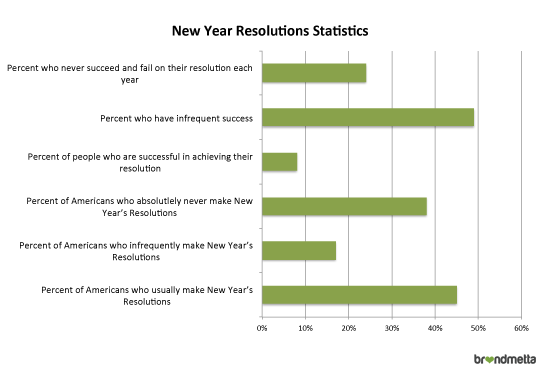 Though a majority of Americans make New Year Resolutions, a large percentage of them don't keep their resolutions. Marketers should look at how they can help build the motivation and momentum to help their customers keep their commitments.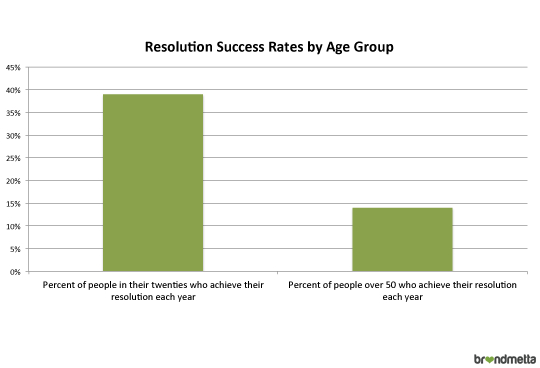 It's interesting to see a great disparity between those who keep their resolutions and those who do not; and the age category they are in. The twenty-somethings have a higher success ratio of keeping their resolutions and the over 50′s have the opposite performance. For a business that cater to the #1 resolution, weight loss, and know this second data set, they may have a different marketing approach for prospects in these two different age groups.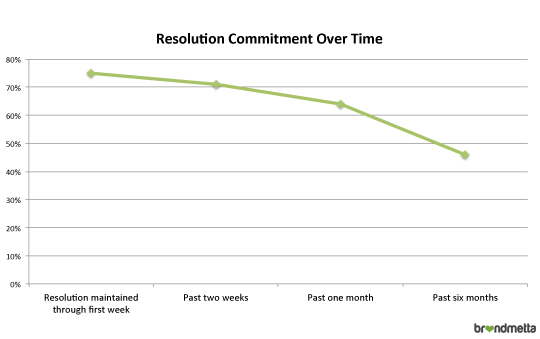 Over time, commitment to one's resolution wane. Businesses can look at the beginning of the decline and offer a promotion to keep the momentum up.
There are many ways to leverage this knowledge to actionable marketing tactics such as advertisement messaging, promotional offers, and incentives. Contact us today for a free consultation on how to customize your messaging and marketing programs.
Source: The data is from the Journal of Clinical Psychology from University of Scranton. Published on December 13, 2012.