We just started using Storify and we're in love!
Storify lets you curate social networks and the web to build social stories, bringing together media scattered across the Web into a coherent narrative. This cloud based (and free) tool allows you to easily search social platforms for content that matches your search term. For example, we can search "iPhone5″ on Twitter, Facebook, Google+, Instagram, Youtube, and even Storify (for other curated stories) to build your "story". There's even a browser plugin that allows you to add to your storyboards (think Pinterest boards) for your stories as you peruse the web. You can even include the Storify widget to your blog so people can also lead their audience back to your content.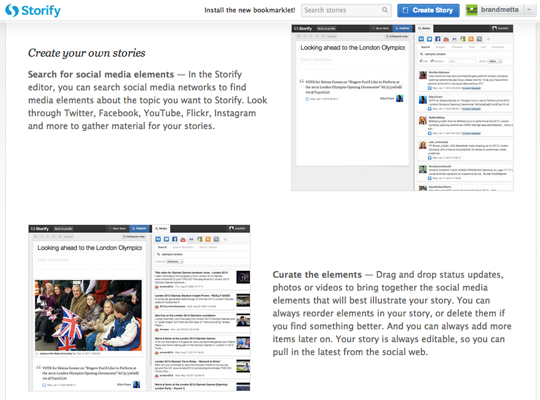 This has amazing potential, folks! Think of brand stories, user engagement, and testimonials. Think of inspiration boards and content boards you can curate to build a story. Best yet, once you have your story, each nugget of content you collected for your story is clickable to the actual original source. Once you publish, Storify can send the originators of the content, letting them know you're referencing their content. What a neat way to get trackbacks and linkbacks!
We're just scratching the surface of this awesome tool but wanted to share this with you so you can learn along with us. As we build a portfolio of best methods and tips, we'll be sure to share it via Storify boards. What Pinterest did for sharing inspiration, Storify can do for brand stories.
Here's an example of our first story we built on Storify called "Brand Evangelists". We searched for some chosen keywords on Twitter, Facebook, Instagram, and Youtube to bring you status updates, photos, videos, and articles on things people do when they L♥VE their brand.We can already see how integrating this with our blog can help us build more meaningful content for our precious Brandmettans.
Let us know how you would use Storify?
SCOOP : On a le Tony Hawk français !

poke @michel_denisot @Daphne_Burki01 @tp9network http://pic.twitter.com/jTWSL5h1Le Grand Journal
Your employees as Brand Ambassadors: Your most valuable asset just got even betternamedotcom
A BUDWEISER CASKET… WOW Ourelian Joseph Haley
This Sat……9/22/12 starts at Bluegrass Harley-Davidson We are heading out early………….starts at 10:00am………..Joseph Scriber
❤❤❤Marc Jacobs #nikkiblosangeles #losangeles #designer #fashion #fall #fabfindoftheday #fabulous #marcjacobs #luxury #luxuryfashion #champagnelifeNikki B Los Angeles
PR 20 Chat TV Episode 4 — Influencers vs Brand Evangelistspr20chat
Retweet this to wish "Five Time" @JimmieJohnson a Happy Birthday! #NASCAR http://pic.twitter.com/vFf4qiDYNASCAR Nation
I can't believe this ish* #buzoba #betissseee #weird #ugly #LV #tattooMs Moumouna
Touchdown para os 49ers! Alex Smith passa para Vernon Davis marcar! San Francisco 49ers 7 x 0 Detroit Lions! Assista em http://bit.ly/eiaovivoEsporte Interativo
Platinum with 1,015 diamondsSherry Felix
Big Gucci #TRAPGOD 10/17/2012 http://instagr.am/p/Pp5UUWy6uv/Gucci Mane